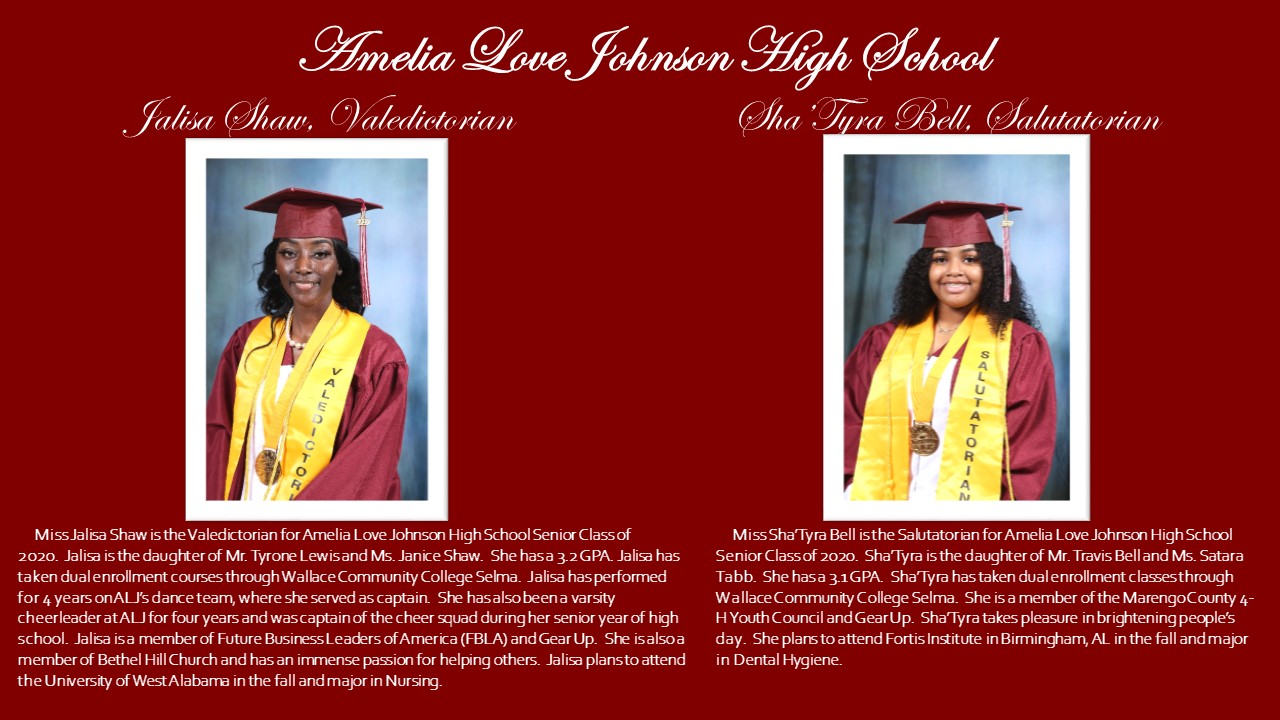 New Student Enrollment Form
If you are ready to enroll your child in Amelia Love Johnson High School, the form you need to complete is shown on the right. You can download the form and submit it 1 of 2 ways:
1. Complete the form online and submit it along with 2 other forms of identification via email to Ms. Leandrea Pogue ALJ Counselor, at leandreapogue@marengo.k12.al.us. OR
2. Download and print the form. Mail it along with 2 other forms of identification to ALJ, attention Leandrea Pogue, 201 Coates Avenue, Thomaston AL 36783.
Just an update for the students and parents for the Coca-Cola Fundraiser. Here is the update directly from Coca-Cola Bottling Company: "Due to the current health restrictions of COVID-19, Coca-Cola Bottling Company is currently suspending all deliveries of fundraisers until the fall of 2020."
We appreciate your kindness, patience, and support of our ALJ students and we ask for your continued patience and willingness to wait on the delay of the Coke products. Coke products will be ordered in the fall of 2020. If, however, you desire a refund instead of waiting on your order, we ask that you contact Mr. Martin at ALJ at 334-627-3364 on Monday, Tuesday, or Thursday between the hours of 8:00 and 12:00 by April 30th. All refunds will be issued on May 6th between 8:00 - 12:00. When calling the school, please have the persons name the order is listed under ready.
We ask for your continued support and petience with ALJ due to the current health epidemic of COVID-19. We miss and love our students and families and can't wait for the day until we are back together as an ALJ family.
Dual Enrollment - Canvas Quick Start Guide - Click Below
Corona Virus / COVID-19 Information
Marengo County Board of Education
Dear Parent/Guardian:
We are currently following the ongoing developments with the Coronavirus (COVID-19). During this
time, we will observe directives and advisement from the Center for Disease Control (CDC), and the
Alabama Department of Public Health. We will continue to make every effort possible to reduce the
spread of any and all viruses in the school facility, while continuing all educational functions and school
operations. You will be informed of any and all changes to our operations via SchoolCast and other
normal methods used by the school your child attends.
In the event of a COVID-19 outbreak and the need to close our schools, we are beginning to work
on making advance plans for our students to remain active in the academic part of each school.
In the meantime, there are several healthy hygiene practices you need to be reminded of to reduce the
spread of germs:
 Do not send your child to school if they are ill. Keep your child home with fever of 100
degrees or higher, frequent cough, diarrhea or vomiting, or a generalized body rash of
unknown origin. Your child should not return to school until they are 48 hours free of fever
and no longer on medication.
 Wash hands often using an antibacterial soap, especially after using the restroom and
before and after mealtimes. Remember to rub hands together after creating a lather for
10-15 seconds for best results.
 Do not share drinking glasses or eating utensils.
 Use and properly dispose of soiled tissues.
 Cover mouth with coughs and sneezes.
 Encourage eating a well-balanced diet and get plenty of rest during time of illness.
 Be prepared to pick your child up from school as soon as possible if notified by school
personnel that your child is ill.
 Wash backpacks, coats, and other articles that potentially carry germs.
 Properly disinfect digital devices with disinfectant wipes.
Thank you for your cooperation in this matter.
Luke Hallmark
Superintendent
Letter from Dr. Mackey, State Superintendent
Superintendents,
Guidance Regarding Personnel Who May Have Tested Positive for Novel Coronavirus COVID-19
As the situation continues to progress, and in light of heightened actions released by President Donald J. Trump last evening, I have consulted with Governor Kay Ivey and State Health Officer Dr. Scott Harris regarding how we would handle any confirmed cases of COVID-19 among our employees. If an employee tests positive for COVID-19, or if the employee's child or dependent tests positive and the employee must stay home to provide care, then that employee should stay home for 14 days and should not be charged sick or personal leave. It is very important that anyone with a positive test self isolates and removes himself or herself from the population for the entire incubation period.
The above guidance is only for confirmed cases of COVD-19. We are receiving some questions about employees who have not tested positive for COVID-19 but would like to self-isolate due to fears of the outbreak or personal medical concerns. In this case, the employee should take personal or sick leave.
Student Teachers/Interns
Many institutions of higher education are moving to online-only classes. The question has arisen as to whether those students should complete their internship hours this semester. We are reviewing and will have an answer for you by tomorrow.
Out-of-State Field Trips and Sporting Tournaments
At this time, we have not revised our guidance issued earlier in the week. I know that some superintendents have decided to cancel events on their own and others have not. We respect your decisions and are monitoring the situation constantly.
Thank you for your diligence and professionalism. Look for additional information as it becomes available.
Eric
Eric G. Mackey, Ed.D.
State Superintendent of Education
Alabama State Department of Education
Gordon Persons Building, Room 5114
P. O. Box 302101
Montgomery, AL 36130-2101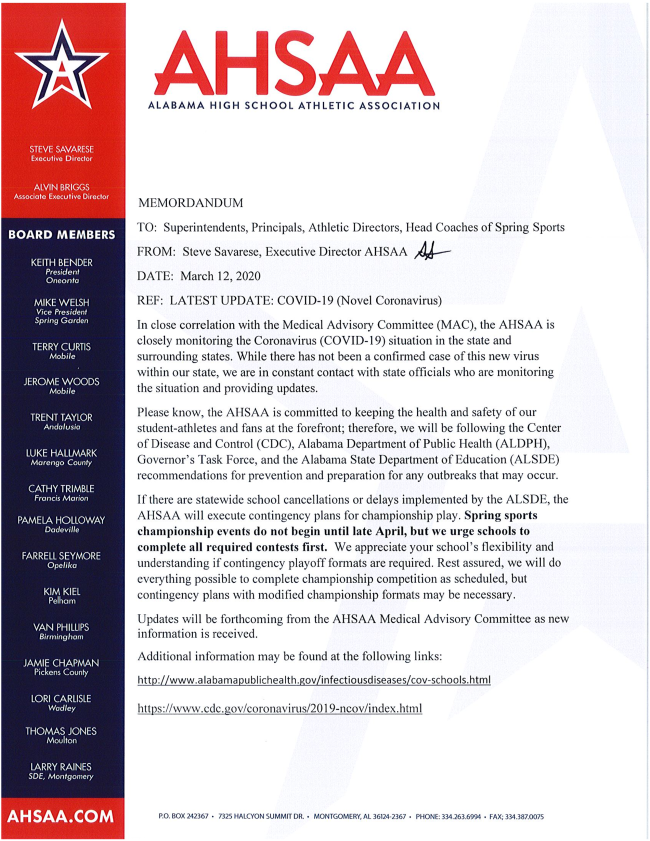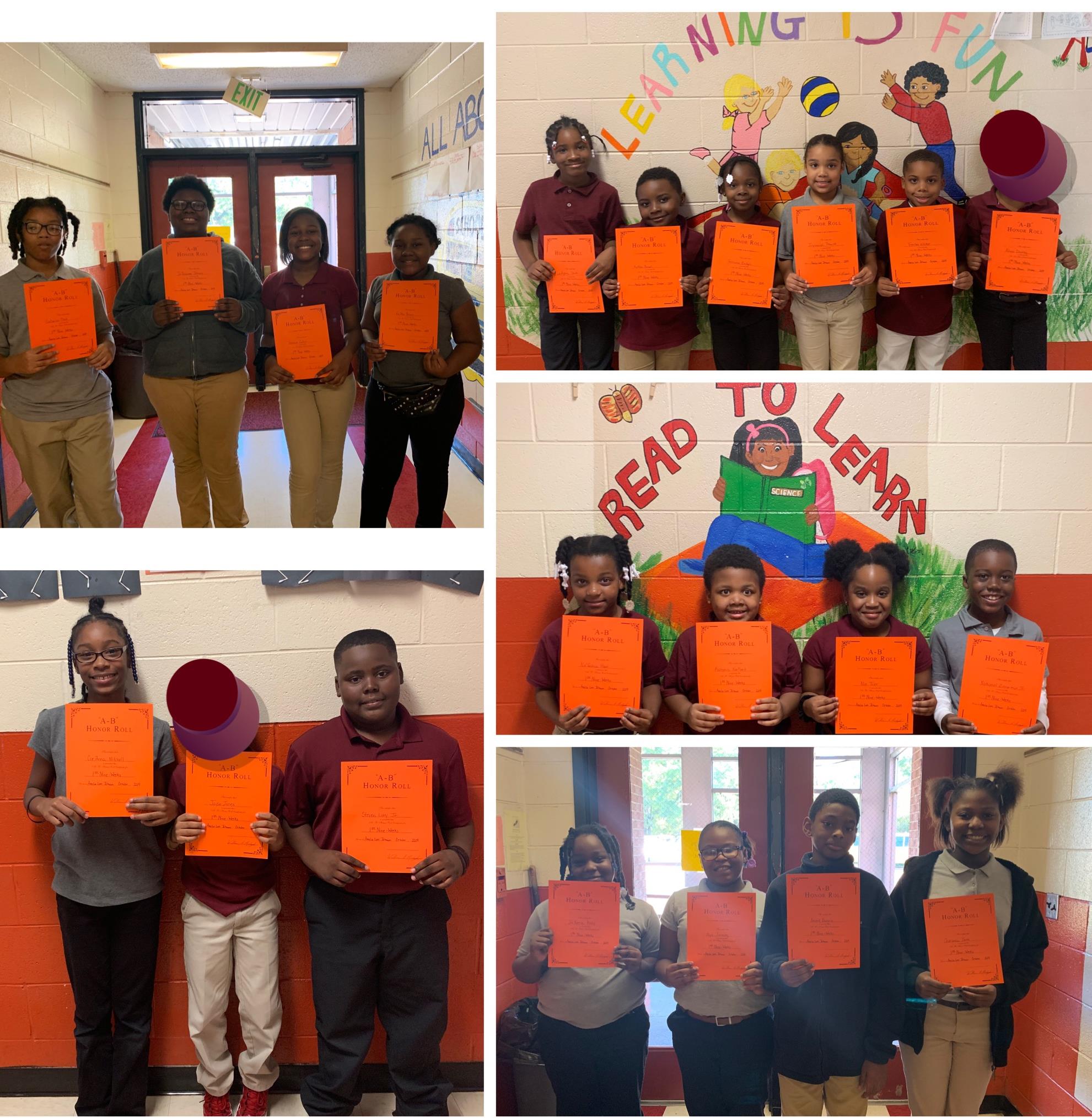 2019-2020 School Calendar
Aug. 1-2, Aug. 5 Professional Development Days
Aug. 6 First Day for Students

Sept. 2 Labor Day Holiday

Sept. 18 Early Dismissal for Students @ 12:30 p.m.

Oct. 14 Professional Development Day, Parenting Day 10 – 6

Nov. 11 Veterans' Day Holiday
Nov. 20 Early Dismissal for Students @ 12:30 p.m.

Nov. 25 – 29 Thanksgiving Holidays

Dec. 20 End of 2nd Nine Weeks/1st Semester

Dec. 23 – Jan. 8 Christmas Holidays

Jan. 6 – 7 Professional Development Days

Jan. 8 Students Return

Jan. 20 Martin Luther King Jr Holiday
Feb. 17 Presidents' Day Holiday

Feb. 26 Early Dismissal for Students @ 12:30 p.m.

Mar. 23-27 Spring Break

Apr. 10 Spring Holiday (Built in Weather Day if needed)

Apr. 22 Early Dismissal for Students @ 12:30 p.m.

May 21 Last Day for Students/End of 4th 9 Weeks/2nd Semester

May 22 Professional Development Day
New School Policy Students may not check out after 2:30